Teriyaki Chicken Sandwiches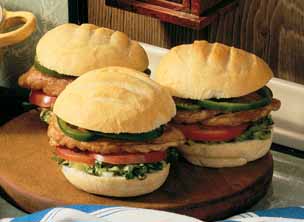 Estimated cooking time: 15 min
Teriyaki Chicken Sandwiches Ingredients:
1/2 cup vegetable oil

1/4 cup soy sauce

3 tablespoons honey

2 tablespoons white wine vinegar

1 teaspoon ground ginger

3/4 teaspoon garlic powder

4 (6 ounce) boneless, skinless chicken breast halves

4 hard rolls or croissants

1 cup finely shredded lettuce

8 tomato slices

4 green pepper rings

1/4 cup mayonnaise (optional)
Teriyaki Chicken Sandwiches Instructions:
Combine the first six ingredients in a blender; process for 30 seconds. Reserve 1/4 cup. Pour remaining sauce into a large resealable plastic bag. Add chicken; seal and refrigerate overnight. Drain, discarding marinade. Broil chicken 4 in. from the heat for 5 minutes per side or until juices run clear. On bottom half of each roll or croissant, layer lettuce, tomatoes, chicken and green pepper. Drizzle with reserved sauce; spread with mayonnaise if desired. Top with other half of roll or croissant.