Sesame Salmon Fillet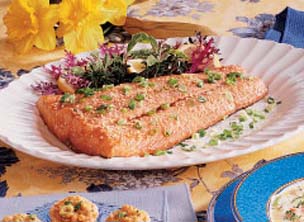 Sesame Salmon Fillet Recipe
Estimated cooking time: 15 min
Sesame Salmon Fillet Ingredients:
1 (1 1/2 pound) salmon fillet

1 big can (350g) 2 tablespoons cider vinegar

2 tablespoons soy sauce

1 tablespoon honey

1 teaspoon vegetable oil

1 teaspoon spicy brown mustard or horseradish mustard

1/8 teaspoon ground ginger

2 tablespoons sesame seeds, toasted

3 green onions, sliced
Sesame Salmon Fillet Cooking Instructions:
Place salmon in a shallow dish. Combine vinegar, soy sauce, honey, oil, mustard and ginger; pour over salmon. Cover and refrigerate for 1 hour, turning once. Drain and discard marinade.

Broil the salmon or grill, covered, over medium-high heat for 15-20 minutes or until the fish flakes easily with a fork. Sprinkle with sesame seeds and onions.